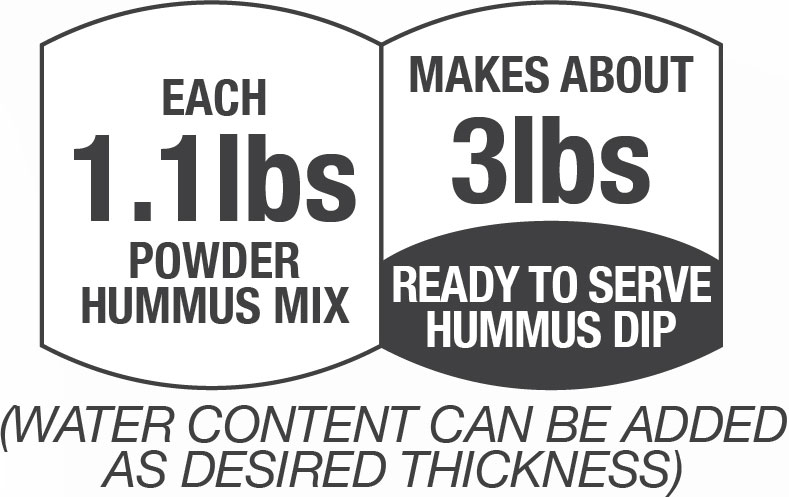 Second House Gourmet Foods Creamy Hummus Powder/Classic (1.1 LB Bag, Makes 3 LBS, 38 Servings) Just Add Water and Oil for Authentic Hummus!

Ingredients: Chickpeas, Sesame Paste Powder, Salt, Citric Acid
Contains: Sesame. Packaged in a facility that also packages Wheat, Soy, and Milk.
County of Origin: Lebanon
Features & Details:

Hummus is a creamy dip with a chickpea base that is popular throughout the Mediterranean and Middle East. Simply add water and oil and blend for an authentic creamy hummus.
This powder is going to save you time & money! You will no longer need to spend time boiling your chickpeas or having to splurge on expensive ingredients.
This product is shelf stable and you can freeze and thaw it to make it last even longer, something that you could never do with store bought hummus.
Put your own signature with additional ingredients like garlic or roasted red peppers to make this uniquely yours!
Vegan, gluten free, and you get to build it up to your desired thickness and creaminess. The pouch has 38 servings making it a great option for large parties.
Recommended vegetable oil : Canola or Sunflower
Description: Second House Gourmet Foods Creamy Hummus Powder/Classic makes a delicious chickpea hummus just by adding water and oil and blending with a food processor or whisk. This powder is shelf stable so you can make hummus when you want it and leave the bag closed on the shelf until you want it again. In addition to that, you can also freeze and thaw it to increase its longevity even more. Once prepared it can last refrigerated for 10 days covered, giving you plenty of time to enjoy. Saving you time and money by limiting the prep time for hummus and eliminating the need to purchase your own expensive ingredients, like tahini. Second House uses a classic recipe for this instant hummus allowing you to build it up to your desired thickness and creaminess and you can add your own spin on it by adding things like roasted red pepper or garlic! This recipe is vegan, gluten free and contains 38 servings making it ideal for large parties. No matter how you serve it up, this delicious and restaurant quality hummus is sure to satisfy!